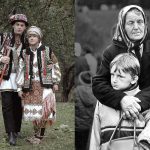 The exhibition "EXPECTATIONS" introduces photographers from the Western Ukrainian City of Ivano-Frankivsk, whose creations deal with the life of the Carpathian Hutsul people. Said mountains in the heart of Europe are located close geographically but far away from our cognition. This region is located at the borders between Poland, Romania and, above all, the Ukraine, where traces of an old, perishing culture can still be discovered. The Exhibition is open till 2014/01/06!
The remotely living Hutsul people were able to endure even the sovietization measures of the former CIS state Ukraine. Until the end of the 19th century, the Hutsuls were isolated from all developments of their time in the impassable high mountains. This exhibition shows photographic positions, that deal with the possibility continuous advancement of a rural way of life and the identity shaving and identity crisis connected to it. Besides that, it presents the work of the photoclub "Columb", that is going to celebrate its 20 year jubilee next year. Several Ukrainian photographers will attend the exhibition to report on their work.
Photo: M. Dzhychka: Play before Dawn
Combination: O. Torbiak / M. Kushnirenko
Photographers from Ivano-Frankinvsk/Ukraine: Anatoliy Gleb, Bogdan Mokhniak, Denys Trofimov, Dmytro Petryna, Ivan Postolovsky, Mykola Kalytchuk, Myroslav Kushnirenko, Oleksandr Torbiak, Pavlo Drobyak, Taras Dutka, Taras Yakovyn, Tetyana Pavlyk, Yuriy Rylchuk, Yarema Protciv; Mykola Dzhychka
Mykola Dzhychka, artist, member of the photoclub "Columb", secretary of Ivano -Frankivsk regional department of National Photographers Union of Ukraine:
"The organizers have chosen genre pictures from the life of the Carpathian inhabitants, Hutsuls, and the unhappy life of the elderly people of our country not by chance. Obviously, such types of pictures were found by the majority of the club participants in their archives. Pictures of such photo stories are marked by romanticism, good academic composition frame and restrained colors. These photographs represent endless creative tourist visits to our mountains, where most of us look at things differently, breaking away from everyday life. But, unconsciously, we focus our attention on spirituality and the drama of human life, even when we are in an elevated state of mind and body, enriched by Carpathian mountain air. The audience can decide whether it happens accidentally or intentionally.
I would like to mention that collective exhibitions of the photoclub "Columb" didn't vary much in search of the genre. Typically, the club collections are presented in the traditional genres of landscape, portrait and genre pictures with a romantic reflection of national culture, mostly Hutsul ethnic minorities, with which Precarpathian land is associated. It is also impossible not to mention presentation of exhibitions dedicated to some official calendar dates. This is still a Soviet collective approach to creativity, in which the driving forces are formal structures, small subdivision of which is photoclub "Columb".
The exhibition "EXPECTATIONS" shows that, unfortunately, the club space for sharing information and generation of creative ideas isn't used enough. Perhaps, this sadness that is everywhere prevents us from concentration on more advanced creative ideas and takes most of our time. So we can only hope for the best.
In contrast to the general club situation, individual creative approach of the club members is, undoubtedly, more interesting in terms of the usage of the original visual language and proximity to the contemporary photo trends, but that's another topic – and this topic is more optimistic…"