In Dresden and Nebelschütz we will be able to experience our slammers – six very different young people from Saxony in total – on stage. In a selection of short portraits of those participants who have agreed to be published, they will be introduced!
Maximilian
"It is above all the perceived division of society, fears of relegation and the future, migration policy and the education system that move people in Saxony.
This is the opinion of Maximilian, our next participant in the first demoSlam of Saxony in dialogue. The mathematician from Leipzig sees himself as a "fervent liberal", who also likes to argue publicly about other views. Max is anyway of the opinion that a "confrontation of different currents outside of the election campaign comes off badly". That's exactly where he is right at the demoSlam.
By the way, the 25-year-old loves games in every form – from pen & paper to board and computer games to LARP. And although he would like to win more often in the inner party fight, he will probably not appear as martial at the demoSlam as he does in his role-playing games.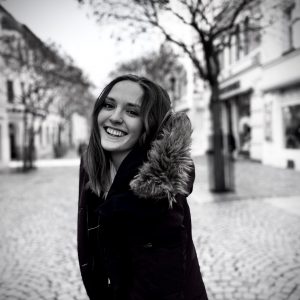 Lea
"I was born a Sorbian and grew up as one. Since I lived in Canada for a year and am now studying in Dresden, I have become increasingly concerned with my identity. Because the boundaries between 'being German and being a Sorbian' are sometimes blurred".
Our demoSlam candidate Lea describes herself as an open person who likes to travel and meet people. But she also reaches her limits – when she discusses politics or organic farming with friends and acquaintances, for example.
Karim
"The excessive moralizing of the debate has become prevalent in recent years, allowing people to disregard their interlocutor, to take refuge in an elevated position and judge from there," says Karim. Fronts are hardening, we are increasingly losing our culture of discussion. The nuclear-liberal, culture- and politics-loving high school graduate grew up in Tel Aviv and was made partly responsible for Israel's politics in his new home in Leipzig. This shocked him.
At the demoSlam, Karim not only wants to exchange ideas with other young people from Saxony, but also to learn how he can better enter into dialogue. Because for him "dialogue is the most important thing if our democratic, diverse society is not to break up."
David
"Identity is important: for places, communities, people. Citizenship is where people with different views, values and socialisations come together. To take these differences seriously and to accept them calmly requires that we start talking to each other again.
Our demoSlam participant David comes from Coswig and is politically active in Dresden. The former chapel boy is privately engaged in theology, philosophy and history. That doesn't mean, however, that he can't also be enthusiastic about the works of Dan Brown or Game of Thrones and Star Trek. Our oldest demoSlammer tries to combine a conservative basis with freedom of thought.
Tatjana
"In times of radicalisation, it is a real treasure to find a culture of exchange with those who think and feel differently, instead of sorting out.
Tatjana comes from Dresden and is another demoSlam participant from Saxony in dialogue. Criticism of capitalism, unconditional basic income, mental health, a place where people can develop – Tatjana is not only intensively engaged with her future prospects. But in many a conversation she too has reached her limits. Tatjana hopes that with the demoSlam she has found a suitable format for exchanging ideas with people and their possibly completely different ideas.
Saxony in Dialogue tests innovative methods to (re-)activate a lively and controversial culture of conversation. Citizens from different communities enter into the inner-Saxon dialogue about everyday experiences and opinions on topics that are important for society as a whole. Two project modules (workshops, discussion events) contribute to creating encounters and exchanges between village and city dwellers from Saxony.