The  Armenian rock band "Vordan Karmir"  visits Germany for the first time and plays shows in Cottbus, Dresden and Leipzig. We support last year's finalists of the Emergenza festival (Moscow) with their live debut in Germany.

Four guys with different characters have met at "Vordan Karmir".  From the beginning, they kept their style and their ideas, which are characterized by combining elements of traditional Armenian folk music and modern, hard alternative rock. The results are worth listening to. One cannot miss the considerable similarities to SOAD.
The band has existed for almost ten years. The guys have accomplished a lot during this time: numerous shows in Armenia and abroad, including tours through Russia and the USA. This year, in September, one can see them in England and in October in Germany. "4 Packs a Day" and "Aralez" are going to be their support acts in Germany.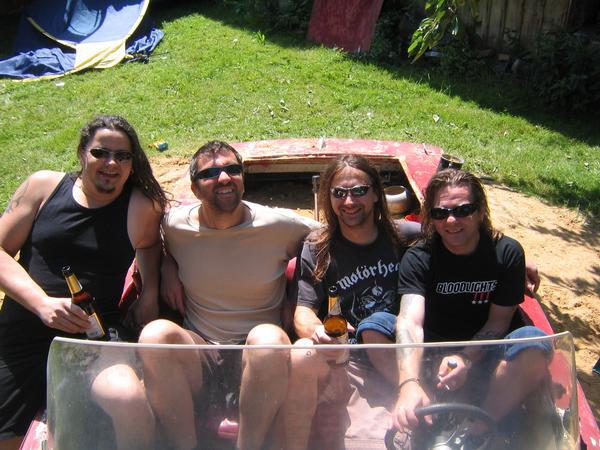 Imagine an impaired Rock & Roll Alien, who crashed its UFO into a well-assorted record store and spent quite a lot of time there afterwards- that is kind of how "4 Packs a Day" sounds like. One can only guess that said record store was packed with records from A like Ace of Spades to Z like Zuma and that the Alien, despite its lack of language skills, had a leaning towards singing along. Desert highways or journeys along the Milky Way, it doesn't matter, stoner rock fits with both. It is also highly recommended to terrestrial Rock & Roll fans!
As the legend says, Aralez was a god in shape of a dog in Armenian mythology. Mysterious and precious, he came out of the dark to cure the king's wounds.  This mythology has had its influences, and so the band Aralez mirrors old legends and darker times. The melodic, female vocals, blended with a dry and often gnarly male voice creates an atmosphere between old gods and mystic evil.
Tour dates in Germany:
5 .Oktober 2013 – La Casa (Cottbus)
10 Oktober 2013 – Katy's Garage (Dresden)
12. Oktober 2013 – Tonelli's (Leipzig)
https://www.facebook.com/pages/4-Packs-a-Day/112534975529433?fref=ts
https://myspace.com/4packsaday